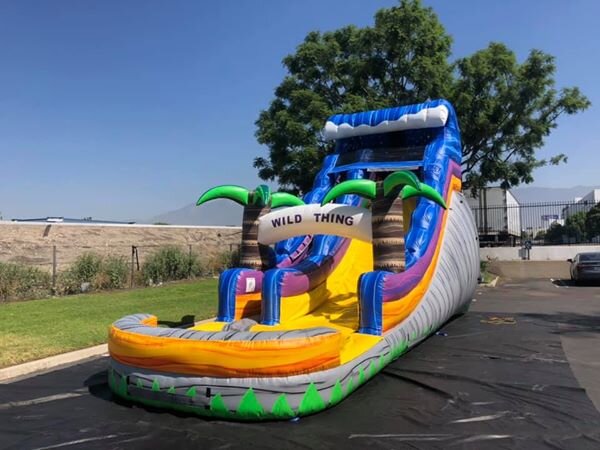 20 ft LED BOOMIN' Wild Thing w/pool
Actual Size: L 31 × W 11 × H 20 ft





Weekend Rental
Fri 3pm to Sun 3pm

$430.00

Sunday Funday Special
COUPON CODE: FUNDAY

Save $15.00




Have you ever slid down a water slide with LED lights?? this water slide is PERFECT for day or even better NIGHT time fun! This water slide has a big pool for BIG SPLASHES!
Introducing the 20 ft LED BOOMIN' Wild Thing with pool - the ultimate addition to any pool party or outdoor event! This inflatable water slide is sure to impress with its vibrant LED lights that illuminate the entire slide, creating a stunning visual display that will leave your guests in awe.
The BOOMIN' Wild Thing features a steep incline that leads to a thrilling drop into the refreshing pool below. The pool is spacious enough for multiple people to enjoy at once, making it the perfect spot to cool off on hot summer days. The slide also includes safety features such as high side walls and a secure entrance and exit point.
Whether you're hosting a backyard party, corporate event, or community gathering, the 20 ft LED BOOMIN' Wild Thing with pool is sure to provide hours of fun and entertainment for all ages.